Our Team
Who are the people behind Whirl Group? Get to know the seasoned team of professionals who make our company tick.
Scott McConville
Founder, Technical Director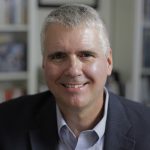 Scott began his career as an audio, video, and broadcast engineer, working with facilities throughout the New York City area. He joined the award winning music mastering facility, Masterdisk, as Technical Engineer in 1988 and was soon promoted to Technical Director. The studio earned hundreds of gold and platinum records for its work with artists such as Sting, Lou Reed, Phil Collins, and Madonna.
In 1992 Scott joined Masterdisk's Chief Engineer Bob Ludwig to help create Gateway Mastering Studios in Portland, Maine. As Director of Engineering, he was responsible for new technology development, studio design, technology, computer network operations, and software development. He was instrumental in orchestrating Gateway's entrance into DVD authoring and multimedia. In this capacity, Scott worked with record companies and video houses to create new uses of DVD and adapt the DVD authoring process to meet the music industry's needs. During his tenure, he designed and developed the first DVD authoring and production studio for music releases and the first studio to master surround recordings. The studio earned hundreds of gold and platinum records for its work with artists such as Bruce Springsteen, Nirvana, Paul Simon, and Eric Clapton.
Click here to read more ...
After receiving a degree in Business Administration & Information Technology from the University of Southern Maine, Scott joined Vulcan Inc. in Seattle. Founded by Microsoft co-founder Paul Allen, Vulcan Inc. is a venture capital, project management and technology R&D company, with a diverse portfolio of projects and a mission to "create a new kind of future". As Audio Visual Operations Manager, Scott managed global technology installations, quality certification, video production, and AV operations teams.
In 2004, Scott joined Sterling Sound, a Grammy award winning music mastering and digital media facility in New York City. Sterling's clients include all major record labels and many of the world's top recording artists. As Chief Technical Engineer, he directed technical and studio operations.
In 2006, Scott formed Whirl Technology to offer consulting services for media and entertainment industry clients. Projects included consumer electronics, advanced television, media streaming, media players, E-Ink, E-Books, document management systems, security, mobile broadband, and multimedia solutions.
In 2008, Scott became Chief Operating Officer and Chief Technical Officer for Humble Monkey LLC. Humble Monkey LLC specializes in supporting the information technology needs of hedge funds and money management firms as well as non-profit organizations in the tri-state area. The company provides IT consulting, support, IT infrastructure hosting, disaster recovery and business continuity services.
Returning to his roots, Scott started Whirl Entertainment, a video production company that develops original content. In 2010, Scott consolidated technology, software and entertainment businesses as Whirl Group LLC. Whirl Group provides entertainment focused technology services; application and web development, project management, and audio/video technology consulting.